Search By Year, Make and Model
Is your model not listed? Give us a call at
1 (888) 593-1029
, use the live chat feature or
Contact us
with your year, make & model for more help!
Shop With peace of mind
Free Shipping
Standard free shipping within the lower 48 states. We also ship worldwide! Reach out to our team for assistance.
Warranty
We stand behind our products with a simple and hassle-free warranty process. The goal is to be happy with our batteries!
Customer Service
We pride ourselves in being U.S. owned & operated. A local knowledgeable associate is always available to help.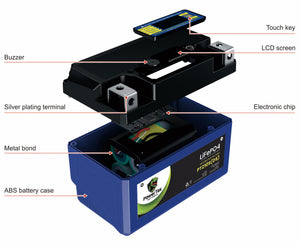 PowerTex LiFePO4 Lithium-Ion Battery Features
Internal BMS (electronic chip) monitors battery in real time and alarms the user if any voltage or capacity abnormalities are detected.
At only half to a third of the weight of a Lead Acid battery, LiFePO4 is the ideal choice for Marine, RV, Golf Carts, Motorcycles and Off-Grid applications.
Without any corrosive or harmful heavy metals, PowerTex Batteries are more environmentally friendly than SLA batteries.
LiFePO4 batteries have a low discharge rate and long service life, with an average life expectancy of about 5 to 10 years.
PowerTex Batteries LCD Screen Technology
Our batteries come standard with an LCD screen that tracks Voltage, Capacity and days in use. The two interfaces can be toggled through the touchscreen push button. The days in use feature will not start until 24 hours after battery activation. The screen will display "Maintain" and set off an alarm when abnormal voltage is detected or the battery is low on capacity, this allows users to maintain the battery in time before any long term damage is done.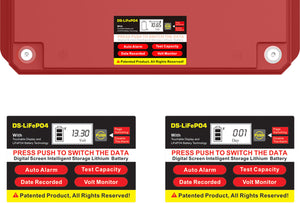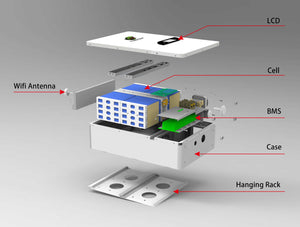 PowerTex Residential Wall Battery
Stop depending on the local grid for power with our new state-of-the-art residential LiFePO4 wall battery. Poor weather conditions and power outages affecting your home will be a thing of the past!
6,000+ battery cycles, 95% DoD (depth of discharge), UL1973 IEC62619 CE & UN38.3 certified, modular design for easy wall installation, compatible with various leading inverter brands, WiFi/Ethernet APP monitoring, supports up to 70kWh configuration.
Subscribe to our newsletter
Promotions, new products and sales. Directly to your inbox.
Let customers speak for us